Coronavirus – the latest updates from George Foreman Grills -
FIND OUT MORE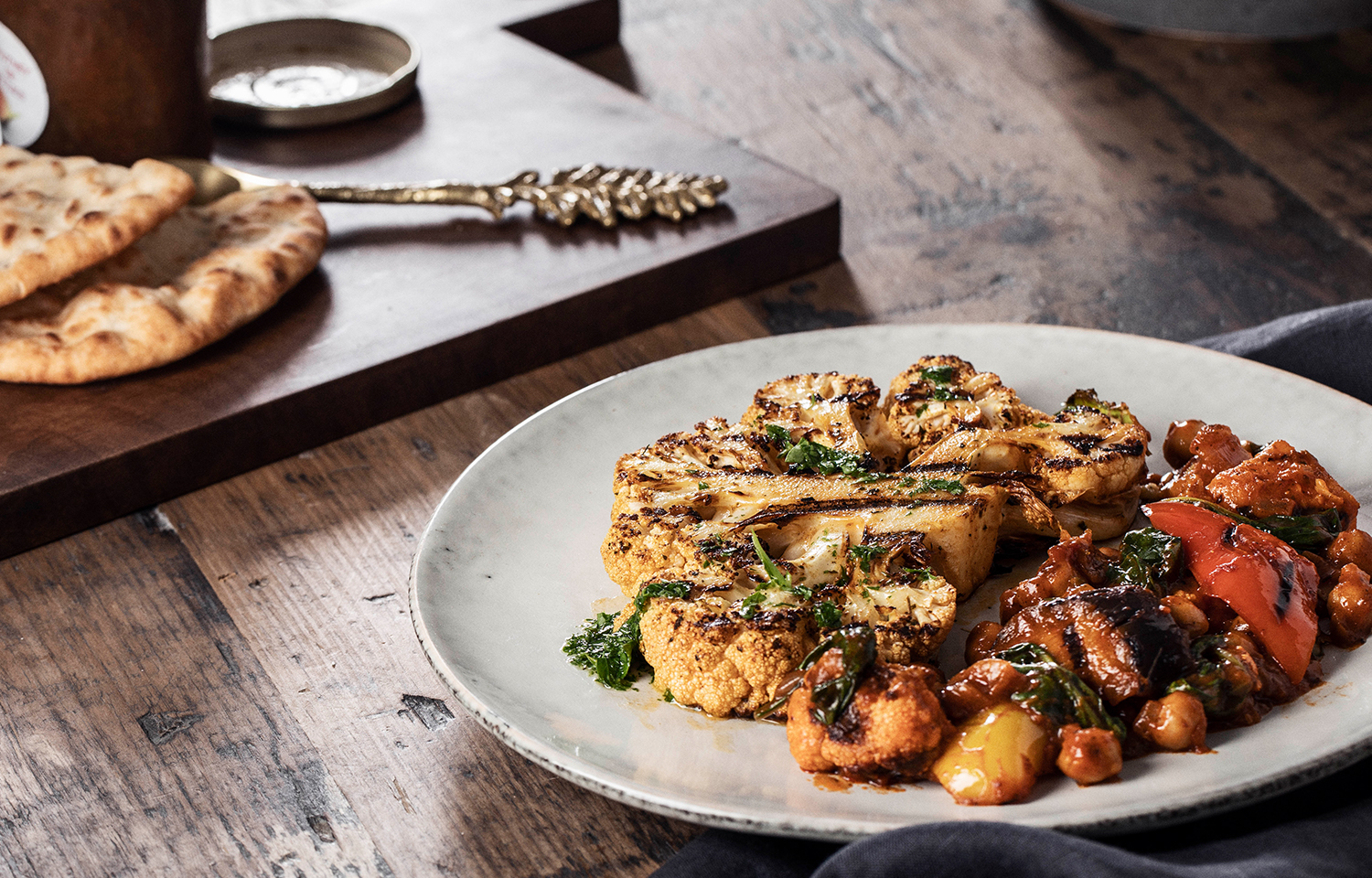 Tikka cauliflower steaks
Ingredients
1 head cauliflower
2-3 tbsp olive oil
2 tsp tikka spice mix
½ lemon, juice
Salt and pepper to taste
For the sauce garnish:
1 red pepper, de-seeded, cut into triangles
½ onion, cut into wedges
½ butternut squash, peeled and sliced approx. 1cm thick pieces
2-3 tbsp olive oil
Salt and pepper to taste
½ 450g jar tikka masala curry sauce
½ bunch coriander chopped
½ 400g tin chickpeas
Serves: 2
For the garnish: pre-heat the grill. Brush the olive oil on the pepper, butternut squash and onion, then season. Grill each vegetable until cooked through. Red pepper approx. 3-5 minutes. Butternut squash approx. 8-10 minutes. Onion approx. 4-6 minutes.
Place the grilled vegetables in a saucepan along with the tikka masala sauce and chickpeas. Gently heat, and then stir in the coriander.
Remove the outer leaves of the cauliflower head; trim the stem end level so you can set the cauliflower flat on a chopping board. Carefully cut the cauliflower into 2 large steaks. Save the trimmings for another day.
Combine the olive oil, tikka spice mix, lemon juice and seasoning together. Brush the mix on both sides of the 2 steaks, set aside to marinate for 20 minutes.
Pre-heat the grill. Place the cauliflower steaks on the grill and cook for 8-12 minutes until golden brown.
Serve with naan bread or chapatti.
Serving suggestion: naan bread or chapatti